TischPDX seeks out Jews involved in organizing where they are and offers learning and mentoring to help emergent expressions of Judaism succeed in summoning the future of American Judaism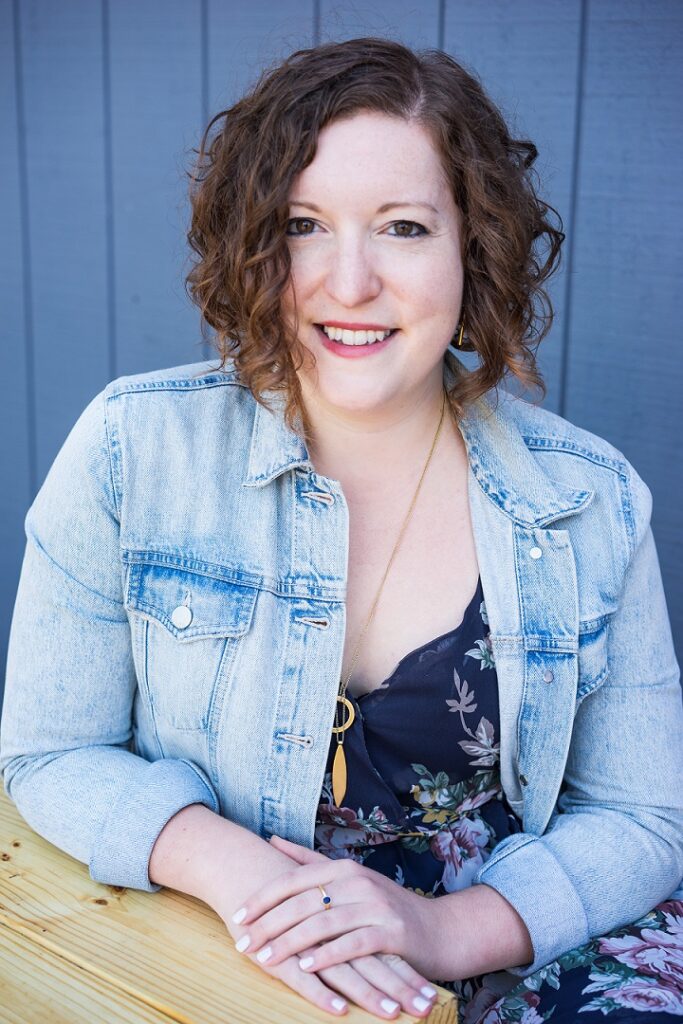 Amanda Davidowitz
Amanda is a perpetual spiritual seeker, yoga nerd and self-improvement enthusiast. She loves to combine yoga, meditation, positive psychology and other mindfulness practices with Jewish traditions in order to create new, meaningful rituals. She is also an enthusiastic people-person who enjoys bringing people together. Amanda moved to Portland in 2013 from New York City, has a masters degree in urban planning focused on community development and environmental policy, and enjoys musical theater, audiobooks, and cooking vegetarian food. Check out her website: www.inspiredheartwellness.com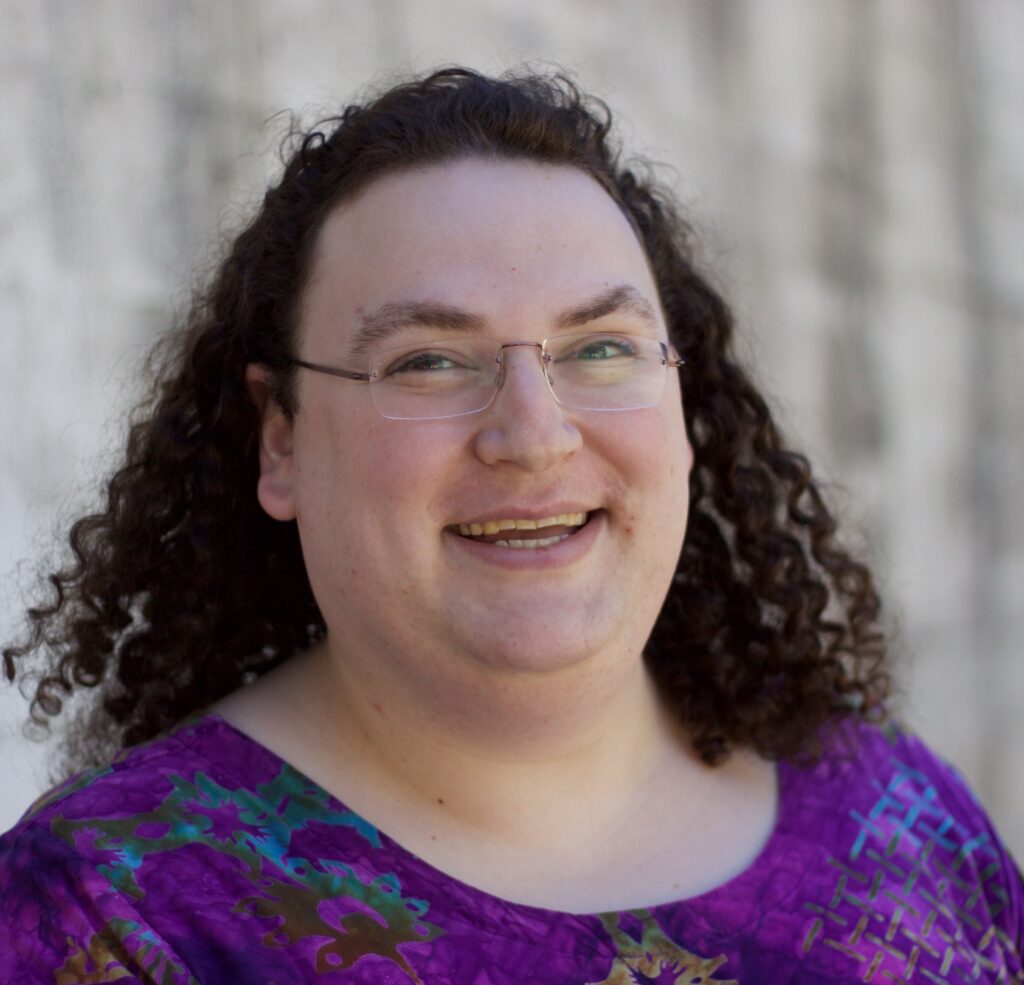 Emily Aviva Kapor-Mater
Emily Aviva Kapor-Mater is the founding rabbi of the Portland Open Beit Midrash. Her rabbinic work focuses on creating innovative yet traditional Jewish law, liturgy, and ritual for transgender Jews, the communities in which they live, and the entire Jewish world. She is the author of several new rituals to celebrate transgender Jews within a traditional Jewish framework, such as naming ceremonies and mikveh immersions, as well as a number of works on Halacha (Jewish law) regarding the broader obligations of the Jewish community towards its transgender members. In addition to her rabbinate, Emily works as a software developer in Portland.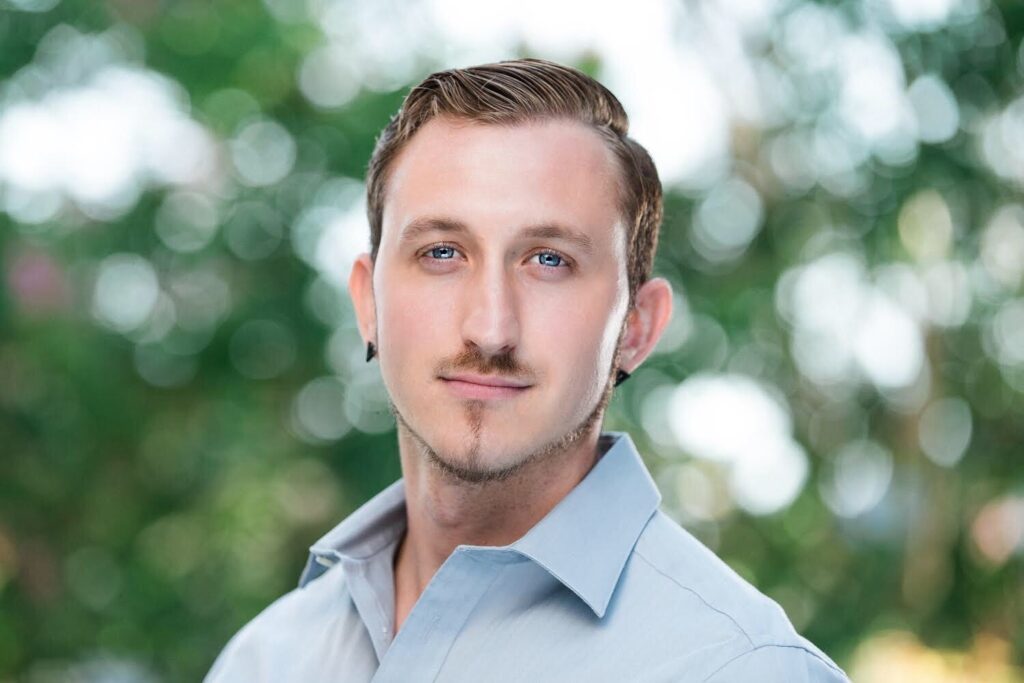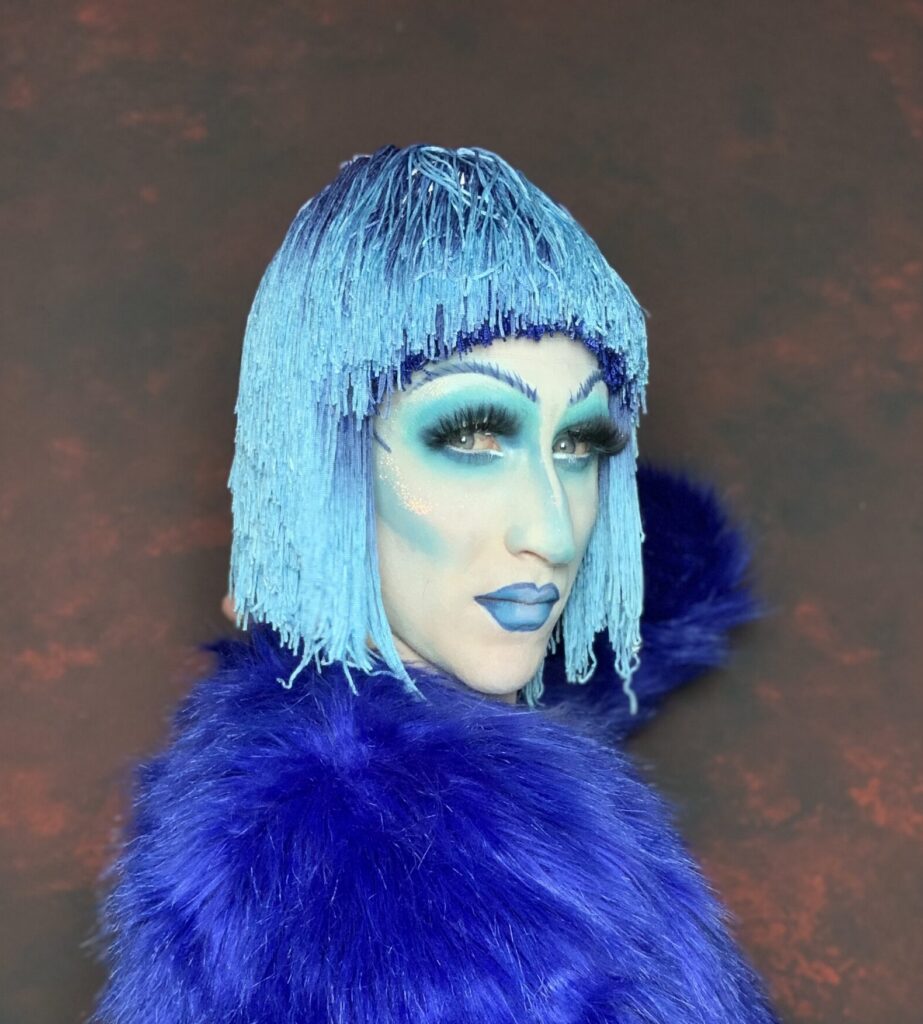 Kyle Prosen / Poly Poptart
Kyle Prosen grew up in the Bay Area, did Hebrew school, served on the regional board of B'nai Brith Youth Organization in high school, competed in the 18th Maccabiah in Israel in soccer, and served on the Executive Board of his UC David Alpha Epsilon Pi fraternity. After college, Kyle served as the founding director of Impulse San Francisco chapter of the Impulse United queer community. After college, Kyle also created his alter ego Poly Poptart, a drag comedian and gymnast. Poly Poptart has sold out shows from the Bay Area to Portland to NYC, has been featured in the NY Times, and is excited to build Jewish community of Portland through fun Jewish events that engage both Jews and non-Jews in queer and queer-friendly spaces.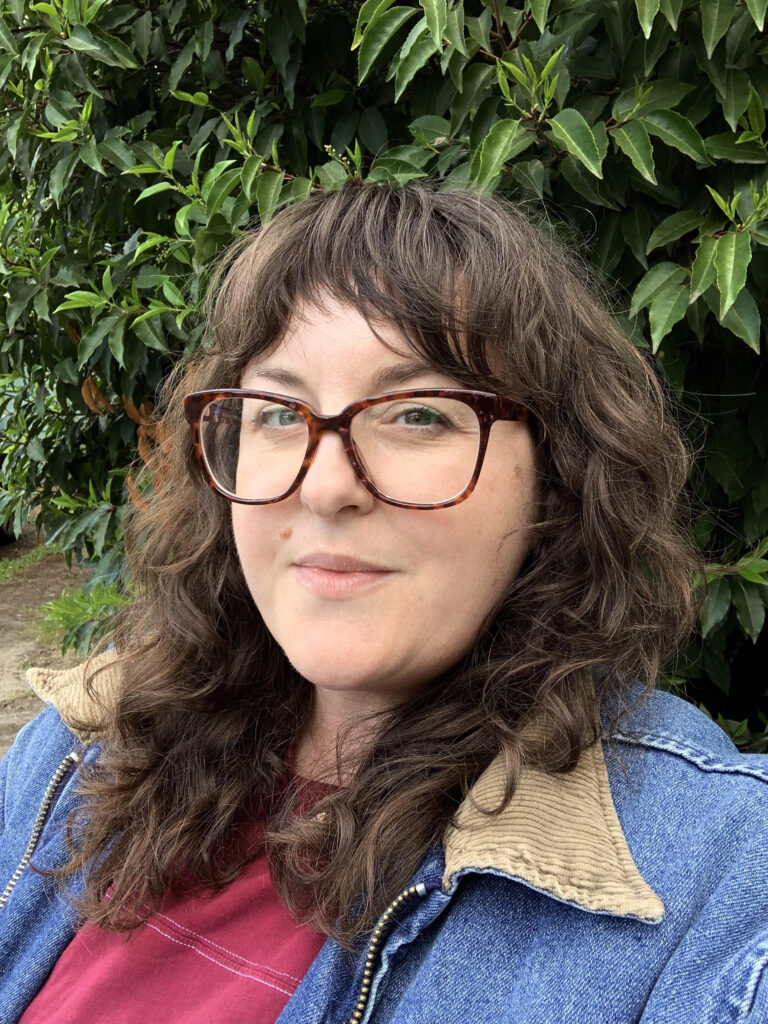 Erin Margaret Rosett
Erin Margaret is an educator, crafter, and artist. She is passionate about Jewish protection magic, queering Jewish ritual, connecting to her community, and engaging in tzedakah. When not teaching or crafting, she can be found gardening, cooking or baking for friends, swimming in rivers, and hiking all over the pnw. Connect with her projects: @craftyfemme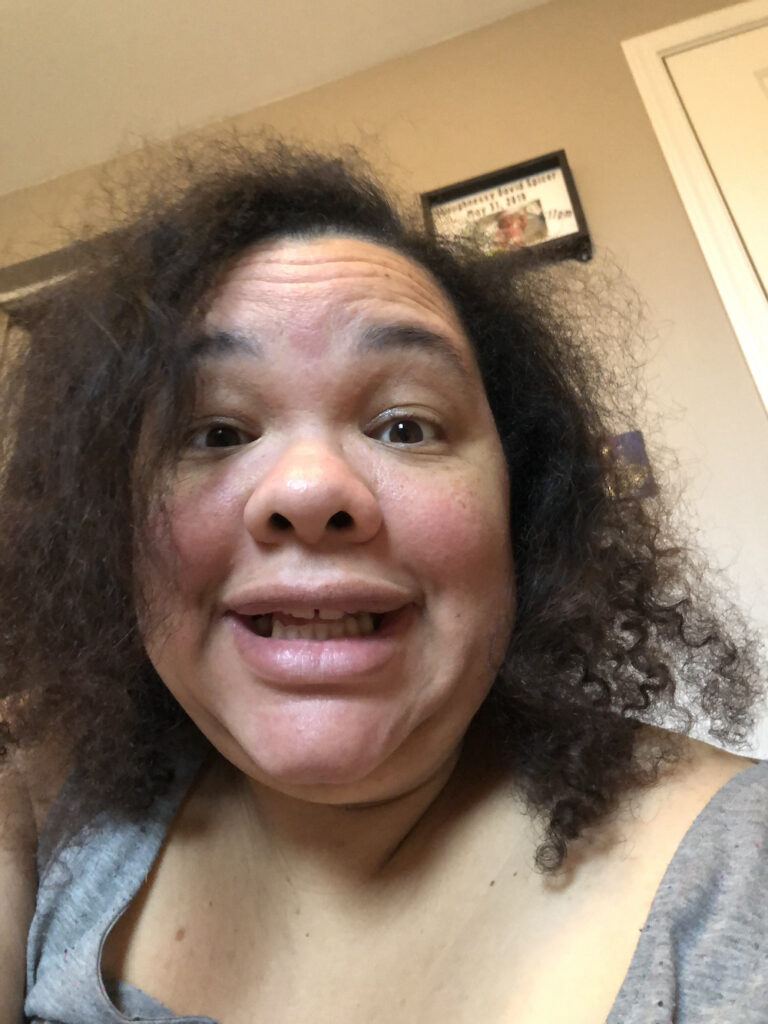 Sabina Spicer
Sabina Spicer is a consummate host, community builder, teacher and momma. She loves the ocean, gloomy weather, science and word puzzles. Growing up in the Latino community in Los Angeles, she learned the joy of hosting and still loves filling her home with people and feeding them on Shabbat and holidays. She is pretty jealous of future generations that get to explore space and she firmly believes that Star Trek is superior to Star Wars. She dreams of meeting Oprah and fainting at her feet. She lives in Milwaukee, OR with her husband, 1.75 kids, 1 dog and 4 chickens.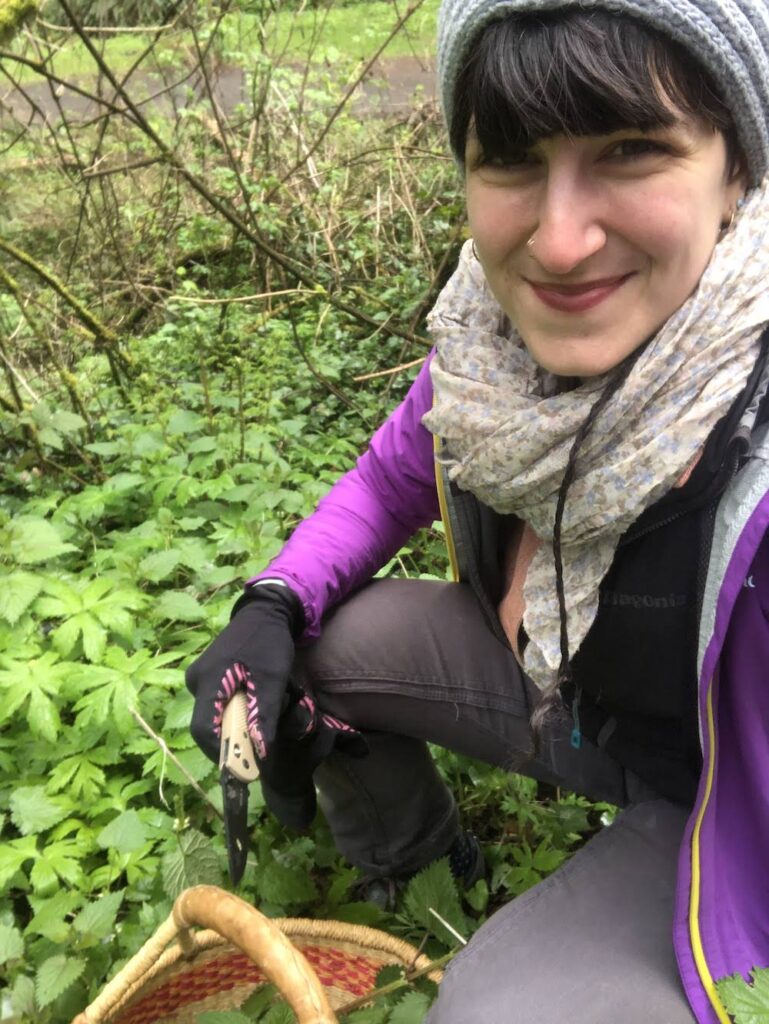 Taylor Feldman
Taylor is a wilderness instructor and environmental educator, interested in exploring the Jewish connection to land, plants, and food. She loves hosting Jewish events and gatherings of all kinds, and the pandemic has created an opportunity for innovative programming and problem solving.
She especially loves connecting over all things food, foraging, and dance.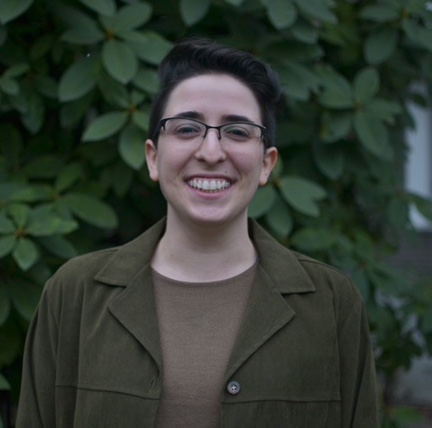 Ellie Simon Goldman
Ellie landed in Portland by way of the Midwest. Personally and professionally, she enjoys crafting ritual experiences and supporting meaningful relationships among people who might never otherwise have met.
(Ask her how to become a Big Sibling with the queer mentoring initiative at @bbbsnw.) Post-COVID, she would like to have you over for one of her Shabbat dinner potlucks. Homemade challah, warm company, and joyful singing are always on the menu.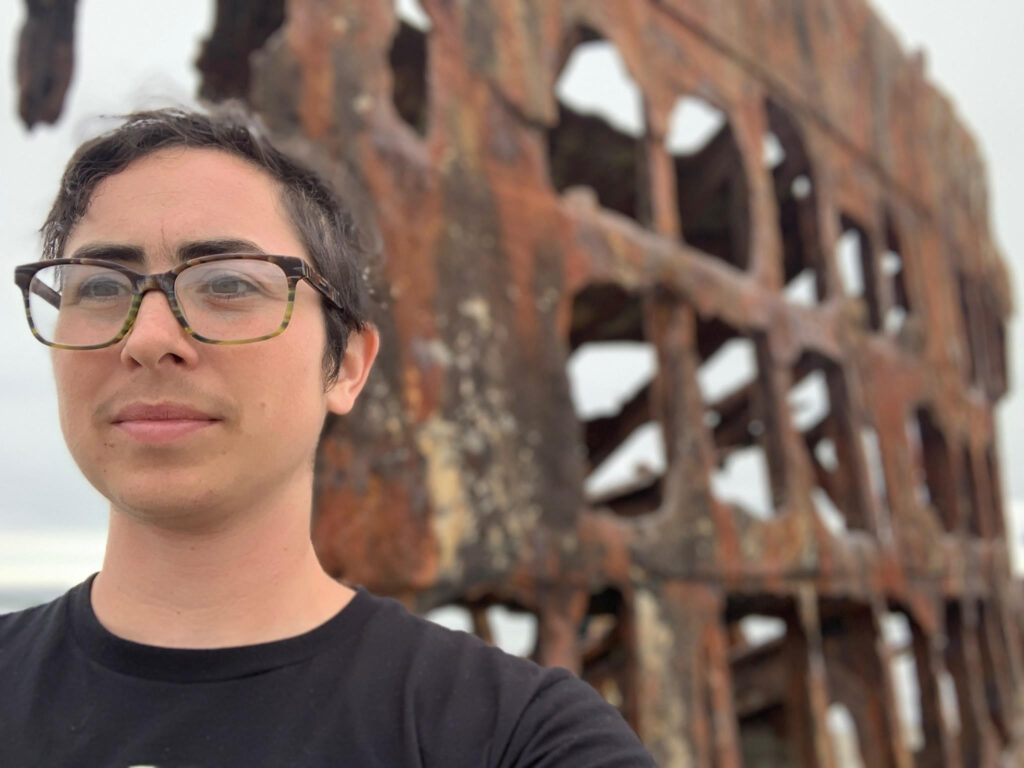 Lyra Goldman
Lyra was born and raised in Portland, Oregon. Having grown up in queer Jewish community, they have always felt empowered to bring their own interpretation to Jewish holidays and traditions.
They are passionate about creating meaningful Jewish experiences for anyone who wants to be involved, as well as pursuing tikkun olam. When not focused on community building, they work as a special ed teacher and love dancing, rock climbing and biking to the woods. Connect with them @gentlethem.farmer.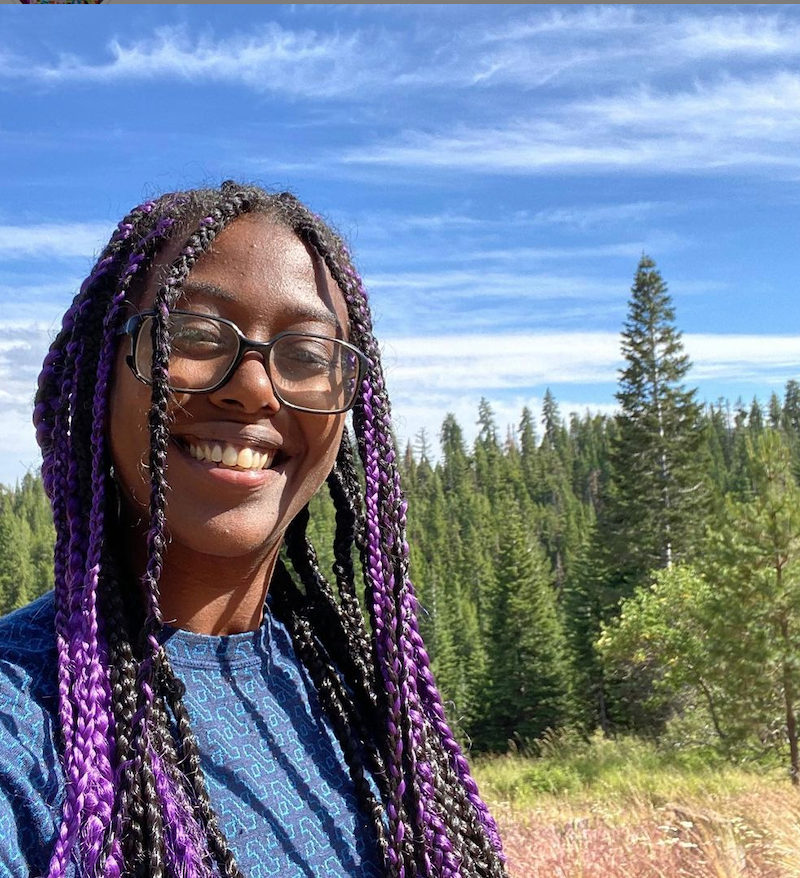 Tammy Habteyes
Tammy is an Israeli-Ethiopian Creative Producer and community organizer in Portland, OR. She provides a space for professionals, activists and journalists to engage with progressive American Jews about the Israeli-Palestinian conflict.
Her work focuses on fostering conversations that explore the region's history, current events, viable solutions for peace, preservation of human rights and a democratic Jewish homeland. Tammy is also the Director of Public Affairs at @kbooradio Community Radio, a 2020 Charles Bronfman convener, ukulele player and big fan of Dbeat, Powerviolance and 1980's hardcore music. Connect with her @rosecityhabesha.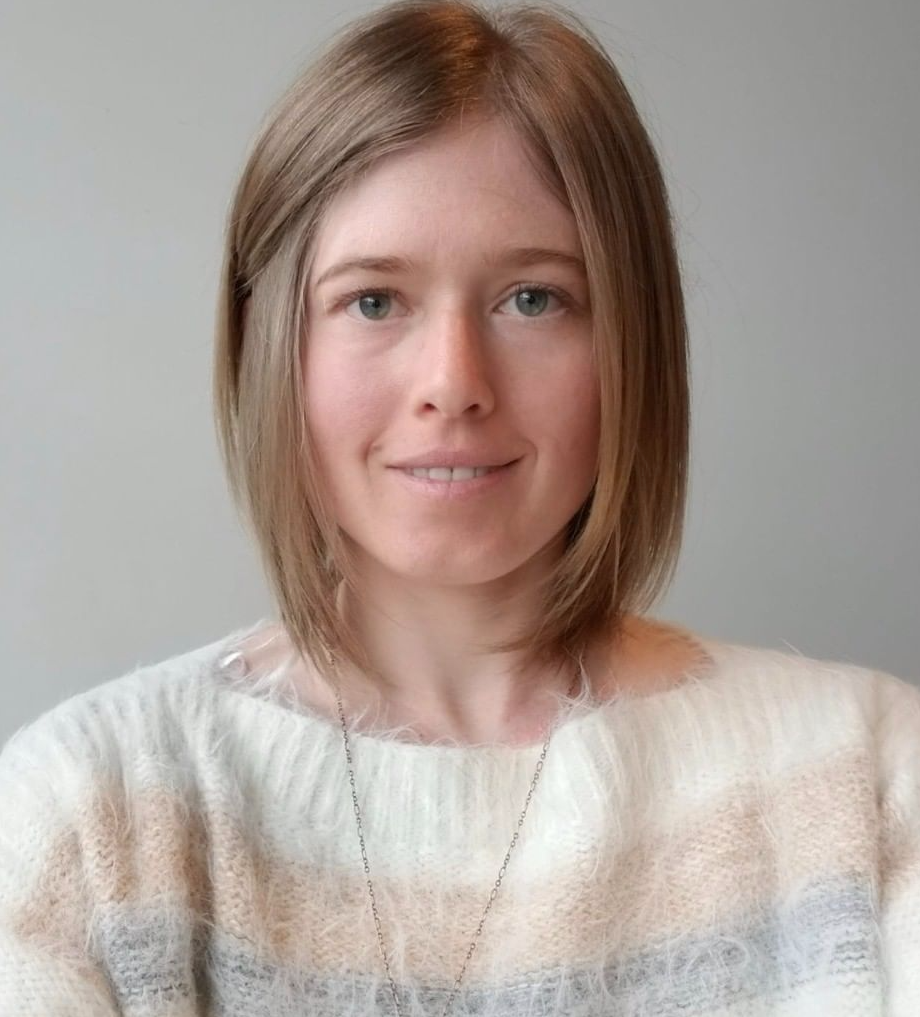 Megan Harned
Megan has lived in Portland for 7 years after moving here from Long Island. She appreciates being able to draw on Torah to nurture her personal instincts for compassion and justice, and is grateful for Tisch for creating a social justice minded space for collaborative action.
When she's not busy getting the word out about @mentalhealthmatch you can find her thinking a lot about pugs, @schittscreek, and how to decorate her new apartment. Connect with her @megangclwh.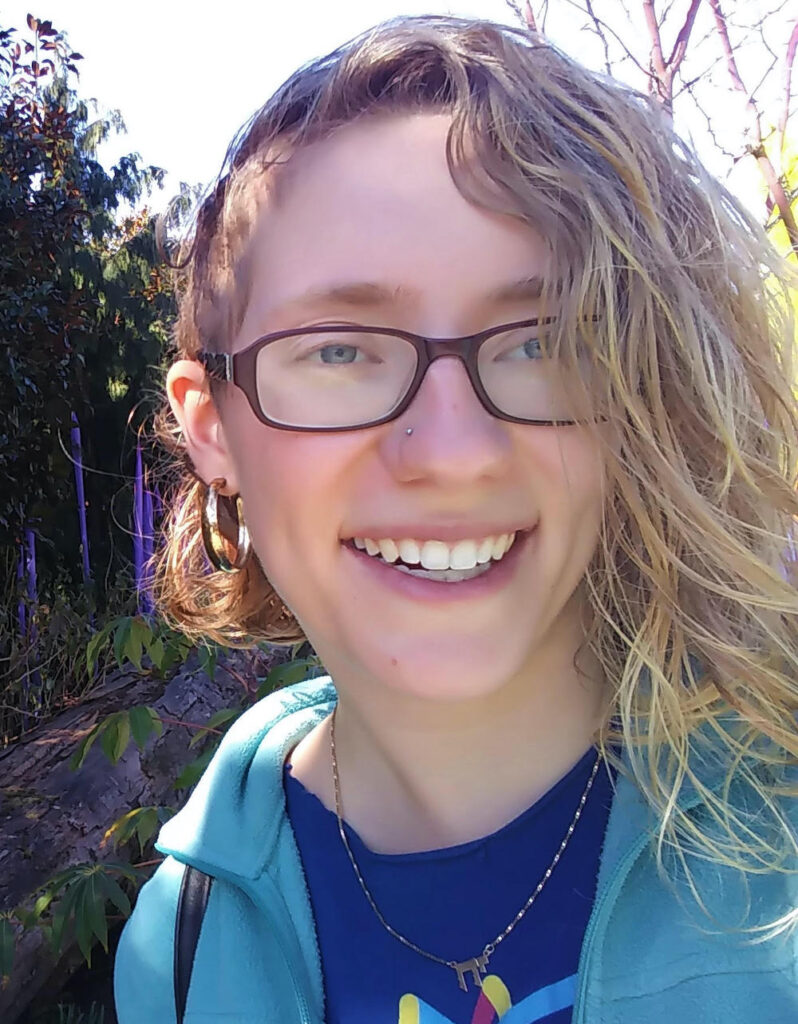 Caryn Shebowich
Caryn is a residential youth mentor for @tivnu: Building Justice, a Jewish, social justice focused gap year program. From Denver, Caryn believes Judaism offers a ritual toolkit for introspection and activism; they are excited to continue building relationships with the other Jewish organizers and deepening their own toolkit!
When she's not leading Jewish song circles, Caryn is probably swing dancing, geeking out about nonviolent communication, or eating good cheese.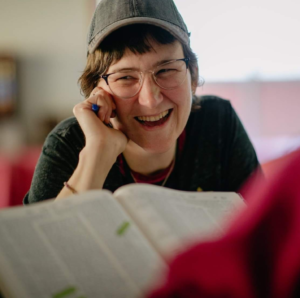 Rocky Cohen
Rocky Cohen has been in the Portland area since 1989 making art and music, dancing, and reveling in community. Rocky feels most Jewish when praying, studying, singing Hebrew songs and Nigunim, or sharing stories about the healing of reconnecting with Judaism. Rocky has been on a journey of reclamation of their Jewish heritage intently for the past decade.
This summer for the first time they attended Queer Talmud Camp, where during their vocal warm-ups for the talent show, three baby foxes popped out of the woods to watch! As part of the Tisch Pdx cohort, Rocky hopes to develop their organizer skills in a more professional direction through creating opportunities for queer Jewish communal education.
Herschel Colbert
Herschel Colbert is a creator and builder from Southern California. He is excited to further his experience in the fields of youth engagement, Jewish innovation, and community building. His favorite Jewish memories involve intentional gathering, both around the dining room table and in the informal spaces of summer camp. In his spare time, he enjoys winter sports, fitness, kayaking, travel, and hopes to build his very own tiny house in 2020.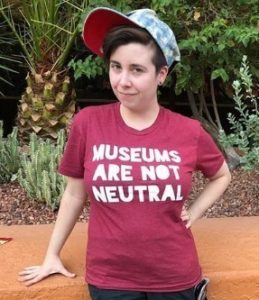 Blair Denniberg
Blair is a proud Jewish lesbian that has made Portland her home for the past six years. Newly rediscovering her Jewish heritage, Blair is looking forward to diving headfirst into everything TischPDX has to offer as a member of cohort #2.
When she is not busy championing radical inclusion at her museum gig or hosting a queer Shabbat, Blair loves to explore PNW swimming holes and spend time with her cat, Cowboy and partner, Rebecca.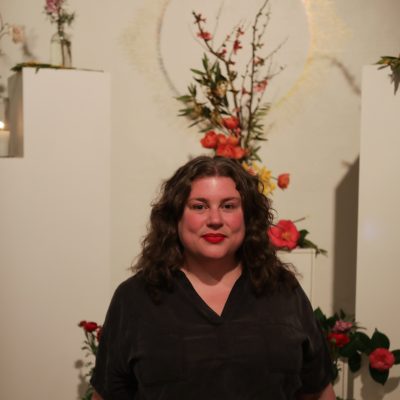 Colleen Dixon
Colleen Dixon moved to Portland from Olympia, WA almost 6 years ago. She loves creating and participating in queer Jewish ritual and connecting over Jewish food. When she isn't hanging out with TischPDX, Colleen can be found reading comics, enjoying musical theater, and exploring all of the Pacific Northwest's natural wonders.
She is thrilled to be a part of the newest TishPDX cohort and looks forward to building radical Jewish community and organizing towards collective liberation.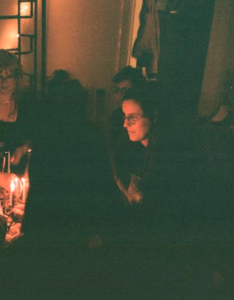 Nat Glitsch
Nat is a zine-maker, an avid engager in unpopular opinions, a Yiddish revival enthusiast, and a secret optimist. Her passions include hidden or not-so-hidden queer Jewish history, inter-generational gatherings, song, and sharing meals among friends.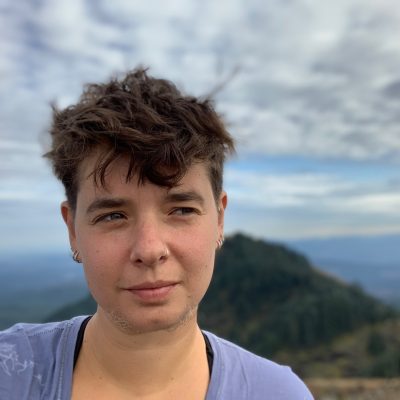 Yasha Shapiro
Yasha Shapiro has lived in Portland for 10 years. Yasha enjoys pulling together writings, poems, prayers, and nigguns to facilitate and celebrate Jewish ritual and services. They are grateful for the Jewish education and community they experienced growing up outside of Philadelphia, Pa that has given them roots in liturgy, music, and prioritising community.
Yasha loves to immerse in healing mikvahs year round in the cold fresh water of the PNW, and their dog muppet Symon Mazal loves to supervise to make sure the immersion is kosher. Yasha is looking forward to learning and growing with the TischPDX cohort #2 to build more relevant and relatable services and ritual and to also help engage other Jews in talking about the Israeli-Palestinian conflict and how this relates to building community.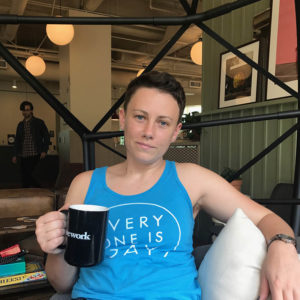 Brooke Adams
Brooke Adams is an outdoor-loving, adventure-having, community-building, Queer, Jewish, Portlander. While her zero-to-no Hebrew skills mean you won't find her chanting Torah or leading prayers, you can always count on her to show up and make ritual inclusive for all.
From her 10-minute Seders at Smith Rock to queer mikveh events at Sauvie Island, Brooke loves bringing all kinds of people together to learn more about what Judaism means to them. Likes: Jewish events that have transliteration, queer/trans/poc inclusive spaces, and of course the short-form prayer for kiddush. Dislikes: Jewish events that feel like matchmaking. ​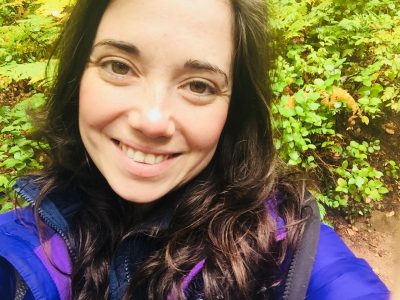 Ilana Cloud Strunin
Ilana Cloud is an artist, designer, connector, and lover of song. She has been creating Jewish circles in Portland around food, community, femininity, and song for 5 years.
After growing up in a secular home, she found her way to Isabella Freedman Jewish Retreat Center in Connecticut, where she explored and embraced her deep roots to Judaism and the land. Through farming, singing, and learning about Judaism, Ilana uncovered her ancestral connection to nature and spirit. This experience propelled her towards a true discovery around her health and her long-time dream of being an illustrator.
In 2016, she ran Portland's Jewish Farm Box, Tuv Ha'aretz Portland, which had over 100 families subscribe in the first year! Over the last year she has found real passion in facilitating and co-leading a monthly Rosh Chodesh women's circle, where women from all walks of life come together to share from their hearts, listen from their souls, and dive deep into both joy and heartbreak. Professionally, Ilana is an artist, web & graphic designer, photographer, and communications crafter both freelance, and at a synagogue in NW Portland. When she's not designing or creating, you can find her exploring waterfalls and mountains, singing folk songs, pulling animal cards, or sipping tea with her favorite people.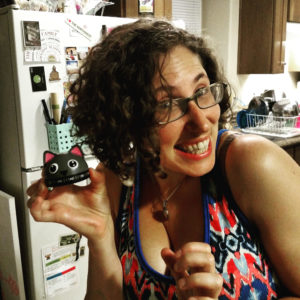 Sara Figueroa
Sara Figueroa is a spiritual seeker, an explorer and a budding Jewish community organizer. As a multi-ethnic Jew from an intermarried family, and a explorer of many faiths and rituals, she seeks to create and/or enhance an open and accepting Jewish spiritual space for davening, singing, ritual, contemplation, meditation and community.
She is currently involved with The Alberta Shul and the At the Well Women's Circle. and is currently planting the seeds of a Northeast Saturday morning prayer community called Lev PDX. When not building and supporting Jewish community, she is constantly making a list and planning for her next adventure- camping, hiking, a quick trip to the gorge, wine tasting, live music and farmers' markets in the summer, creative projects–painting, collage and keeping close to friends in the winter. In her professional life she manages contracts, compliance and diversity programs for a physician group and really enjoys her work and colleagues.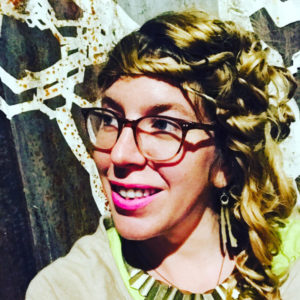 Annie Rose Shapero
Annie Rose Shapero is a Jewish community builder, Realtor, housing activist, and creative. As a social entrepreneur she seeks to attune herself to unmet needs in communities, and to create programming and projects that fulfill those needs.
She is especially interested in learning how help create healthy community organizations that nurture participants and embody accountability and work to fight structural inequality and oppression. Recent programs she has led and organized include: Occupy ICE Shabbat, a Purim parade in the Alberta neighborhood and Passover seder matchmaking project on the East Side.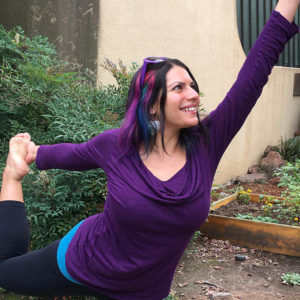 Rachel Stern
Rachel Stern began organizing and educating in the Jewish community when she was a teenager, and has been teaching yoga professionally since 2006. She loves weaving Jewish stories, themes, and values into her yoga teaching, which creates a fully embodied practice of Judaism.
Rachel loves to hold space for students of all ages to experience life fully through their physical, spiritual, emotional, and energetic bodies, and believes that this work is most effective when wrapped in humor and joy. Through the yoga practice we discover that we are lovable and worthy of goodness despite our perceived flaws, and that when we are connected to source we are so much more powerful than when we are not. Rachel is very excited to create and offer an avenue to deepen the spiritual body of this work, and to ignite that spark of connection in Portland's Jewish community.
Unaffiliated Jewish Leadership Incubator
Contact:
eleyna@tischpdx.org